Teaching
Alisha is a rare talent. She is THE BEST TEACHER EVER, she truly has a lot of passion and love for music! I strongly recommend her has a teacher ? – Marie-Pier Langlois
J'adore les cours d'Alisha. Je n'avais jamais pris de cours privés avant et elle m'a mise à l'aise tout de suite. Je vois vraiment un progrès d'un cours à l'autre et c'est super motivant. Alisha est super, toujours les bons mots, les bonnes explications, les bonnes images pour expliquer. Je la recommande à 1000%! – Marine Chevanne
Alisha est une merveilleuse professeur. À la fois douce et énergique, elle arrive à expliquer très bien les exercices et s'adapte à chaque personne. Je la recommande vivement. – Marie Ballaman
Alisha, notre professeure de chant, est talenteuse, méticuleuse, flexible et organisée. Merci! – Marc Kamel
Alisha Ruiss is an amazing coach, she has helped me improve tremendously.
I strongly recommend her. –Georgia Tzabanakis
Les cours d'Alisha sont remplis de plaisir tout en étant éducatifs ! – Mollie Cabana
Alisha has great skill in coaching and guiding you in producing the right sound. Her attention to detail, guiding me how to relax my jaw and adjust my posture all helped me in refining my vocal sound. Friendly and professional, highly-recommended! – Jason Timbol
Singing to me is like disciplined freedom. Before working with Alisha, I was a "in the shower" singer. Even then, I'd always be terrified that my family could hear me, so I sometimes abstained from singing altogether.
That is why I was truly surprised at how comfortable I felt singing for Alisha. Through her positive reinforcement, open-mindedness and friendship, I've found a new sense of confidence and power not only while singing, but also in my life as a whole.
Needless to say, I've felt an incredible improvement. I've stepped out of the shower and hope to someday step onto the stage.  Thank you Alisha! – Jacobo Diaz Bernal
Excellents cours de chants avec Alisha, qui ont permis à ma fille de réussir son casting du premier coup! – Frederic Fafchamps
Alisha Ruiss is a phenomenal singing teacher who gives her heart and soul to her students. Not only does she have a superb knowledge of vocal technique and music, but she has the patience of Job. Instruction and constructive criticism are delivered alongside of encouragement and a smile. I have improved a lot since working with Alisha! Always flexible and eager to accommodate, Alisha is a pleasure and absolute delight to work with!  – Janet
Alisha Ruiss is an excellent teacher. She immediately knows how to improve the voice. Friendly atmosphere! I highly recommend! –  Martin
Alisha is a fantastic voice teacher! I particularly love that she tries to individualize the sessions not only to my vocal style but also depending on my mood/energy level that day. Since starting with her, I've gotten a lot more comfortable and confident about my singing! – Naomi 
Alisha est super même pour les débutantes comme moi, elle est très à l'écoute et en même temps elle a confiance en sa méthode ! Elle apprend à écouter son corps pour chanter et j'ai réussi à enfin oser chanter et à voir des résultats alors que je partais de zéééééro. Une vraie bonne expérience pour ma part, si vous voulez une prof passionnée et gentille je vous la recommande à 1000 % !! – Camille
Alisha is a very professional singing teacher. She is very knowledgeable and able to find any issue stopping you from singing such as pain or lack of volume. She is very generous in sharing tips and she has a talent for teaching.  – Liz
Alisha is absolutely incredible! She knows exactly what adjustments to make to get the best performance out of her students and focuses a lot on freeing up your voice and body. She's encouraging and has a fierce knowledge of musical theater. I look forward to many more lessons together! – Aly
I started lessons with Alisha Ruiss as a Christmas gift from family. I was nervous but Alisha is such a warm presence and explains singing and how to improve through joy and positivity. Highly recommend. – BE
Performing
I have had the pleasure of knowing Alisha for several years now. During that time, I have seen her perform on stage in several musicals. She is so talented and always thrilling to watch. I hired her twice in the past year to sing at two special parties at my house, each time with a musical ensemble that she coordinated. Both times, she chose songs that were so perfect for the event, as was her singing! Good luck! – Debbie Giser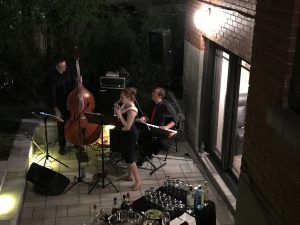 Alisha Ruiss was hired to play at the Industrial Gas Users Association Spring Meeting at the Fairmont Chateau Montebello this past year.  Their feel for the crowd on what was most appropriate to play was bang on!  Coupled with her sweet voice – this group is a definite hire for corporate functions and we would highly recommend the band to others. – Tracy Collins, Canavents
"I spoke with Stephen and Tatiana; they loved your singing and repeated how amazing you are!" – Elyna Kudish, wedding planner, www.elynakudish.com
Le 15 octobre 2016, nous avons eu l'honneur d'être envoûté par la voix magnifique de ma talentueuse amie Alisha lors de notre grand jour.  Elle a récité nos psaumes et chanté le Ave Maria à notre messe d'une voix pleine de foi, de passion et de justesse, qui a su rendre ce moment encore plus grandiose. Elle nous a également offert le plus beau des cadeaux en performant par la suite lors de notre soirée. Son écoute attentive, ses suggestions et son dévouement à s'assurer que sa performance soit parfaite font d'elle une grande artiste et nous avons été privilégiés de l'avoir avec nous. Nous n'avons eu que des compliments! Merci Alisha! Xox  – Christine & Emil
Alisha assembled exactly the right ensemble and program we were hoping for. Our guests all loved her singing, and it was the perfect fit for the wedding we dreamed of. – Sandra & Peter
You were really great at the wedding ceremony. We were very happy with the music and your voice was excellent. Alex and I couldn't have asked for a better cantor. Thank you so much for singing at our wedding and I will definitely recommend you to our friends and family.  – Alex & Jenny
Alisha was very cooperative and helped us choose the best songs for our wedding…she has a lovely voice – take note! Sherly & David
Other comments:
"…the rare gift of a talented, gracious, open-hearted acting partner to share the stage and rehearsal hall with…a flawlessly trained singer with a beautiful, powerful voice…a heartbreakingly sensitive actress…a dedicated and highly disciplined performer, able to fill the character and moments with sensitivity, vitality and honest emotional fullness. In every regard, it was an absolute joy and privilege to work with her." – Chris Hayes, fellow actor (Cliff Bradshaw in Cabaret), Neighborhood Playhouse grad, founder of Witchboy Theatre Company in Toronto.
As the Mayor of Côte Saint-Luc, I have witnessed Alisha Ruiss participate in our many Côte Saint-Luc Dramatic Society shows. She is talented, trustworthy, reliable and compassionate. She is loved by her cast and the entire crew. She always provides positive energy to the environment. – Mayor Mitchell Brownstein
Ms. Ruiss…uses her talents to help mentor younger people in
the performance community here in Montreal, and her mentorship, wisdom and guidance does not end with her knowledge of music. I have witnessed countless times when Alisha has helped to guide younger people, as well as peers in difficult situations, always with her love as a
Catholic shining through. It takes a special skill to offer advice and wisdom that is rooted in faith to people who are not always of the same faith, or even believers in God, without seeming preachy or overbearing, but Alisha has this skill. – Anisa Cameron, director
Alisha est une chanteuse exceptionnelle et ses talents de comédienne surprennent beaucoup aussi. Sa présence sur scène est touchante, attendrissante et suscite plusieurs rires en plus! – Annie Trudeau, championne internationale de swing et ancienne directrice artistique du Swinging Air Force et Studio 88 Swing